BUTTONS

Backlight
White LED backlight for button engraving, software-adjustable intensity, auto-dimmable
Button Caps
Includes (2) strips of (3) medium buttons and (2) strips of (2) large buttons. Additionally, strips of (4) small and (1) medium buttons are available separately. Each strip fills one column. All button caps are blank. Custom backlit engraved button caps are available separately.
Button Events
Programmable for Normal, Tap, Double-Tap, and Press and Hold
Keypad Buttons
Configurable with a variety of buttons in three sizes

CONNECTORS

INPUT 1 – 2
(1) 3-pin terminal block;
Comprises (2) dry contact closure sensing inputs
NET
(1) 4-pin terminal block;
Cresnet® slave port, connects to Cresnet control network

CONSTRUCTION

Chassis
Plastic
Faceplates
Plastic faceplate included, Architectural Series Faceplates (C2NI/INETI-FP) available separately
Mounting
Mounts in a 1-Gang UK (BS 4662) electrical box, 1-Gang European (DIN 49073) electrical box, or 2 x 2 inch (51 x 51 mm) cutout

DIMENSIONS

Depth
1.48 in (38 mm)
Height
3.42 in (87 mm) including bezel
Width
3.42 in (87 mm) including bezel

ENVIRONMENTAL

Heat Dissipation
1.7 BTU/Hour
Humidity
10% to 90% RH (non-condensing)
Temperature
32° to 113°F (0° to 45°C)

LED INDICATORS

Bargraph
(2) 6-segment bargraph displays utilizing the 12 feedback LEDs
Feedback
(12) White LEDs; Programmable, auto-dimmable, software-adjustable intensity, 10 blinking patterns

LIGHT SENSOR

Photosensor for control of auto-dimming function;
Can be configured to report ambient light level to control system

POWER REQUIREMENTS

Cresnet Power Usage
0.5 Watt (0.02 Amps @ 24 Volts DC)

WEIGHT

5.21 oz (149 g)
Crestron® Cameo® International Keypads (C2NI-CB) present a fresh, innovative concept in keypad design, offering extensive control capability in a single-gang European or UK style wall box. These keypads can be customized to fit any room with a variety of button configurations and a choice of three colors.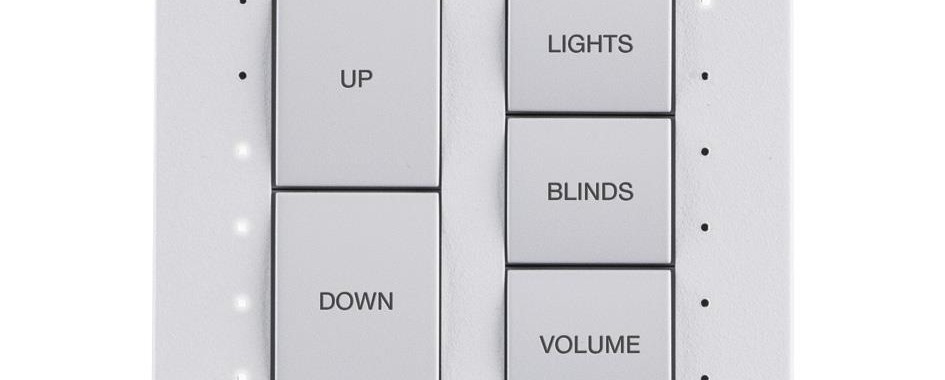 Strona Producenta
http://crestron.eu/
Dokumentacja Techniczna