Elegant in their simplicity, Crestron® CNX-B Designer Series wall-mount keypads afford uncomplicated pushbutton control for a host of applications. These Designer keypads are at once attractive and versatile, offered in a choice of five textured finishes in configurations of two, four, six, eight, or 12 buttons. The buttons are large in size for excellent ergonomics with custom engraving available to provide clear designation of each button's function. Every button is accompanied by an LED indicator, providing true status feedback for the most reliable operation. And, every button and LED is fully programmable for virtually any custom functionality, making CNX-B Designer Keypads perfect for controlling room lighting and shades, audio and video equipment, or any other application that demands simple, immediate, one-touch control.
The CNX-B Series includes additional features for enhanced usability, like audible feedback using your choice of custom WAV sound files. Use sounds to confirm a pressed button or a response from the device you're controlling, sound an alarm, or provide helpful voice prompts. An onboard temperature sensor is also built-in for general monitoring of room temperature. Backlit engraving is even available on black models for enhanced visibility in a darkened room.
Each CNX-B keypad mounts in a standard electrical gang box and includes a matching 1-gang faceplate. Optional 2- and 3-gang faceplates are available to allow up to three keypads to be installed side-by-side. Metallic faceplate covers are also offered in a variety of elegant designer finishes to fit over the 1-, 2-, and 3-gang faceplates. Or, select an Architectural Series faceplate for a decorative sculpted appearance composed of solid metal in a choice of contemporary finishes (1-gang only).
Please note, the almond textured (-A-T) and white textured (-W-T) finishes currently offered are not the same as on older almond (A) and white (W) models. When ordering, please be sure to specify the model number exactly as shown in the price list or on the "Models & Accessories" tab. If you require buttons or keypads to match the older almond or white finishes, please contact your Crestron representative.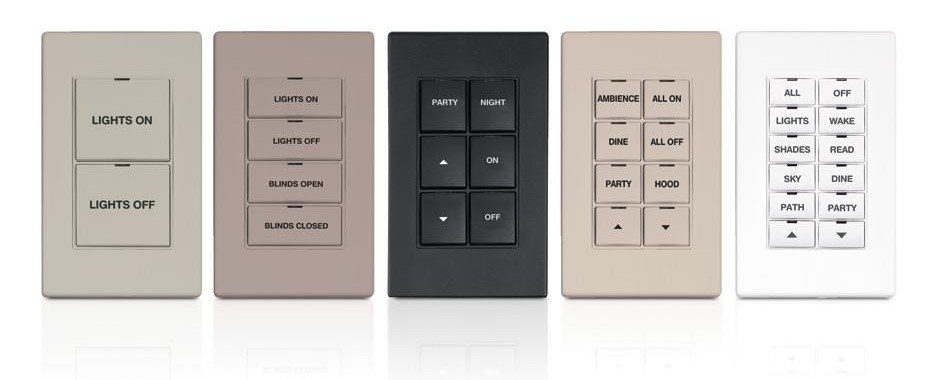 Strona Producenta
http://crestron.eu/
Dokumentacja Techniczna