The SL−10 is a master room controller. It controls audio components, video components and other room facilities such as lights and screens.
1 Ethernet Port – For controlling several AV products over ETH.

2 General Purpose I/O Ports – Can be configured as analog inputs, digital inputs, or digital outputs for interfacing with a variety of devices such as sensors, switches, LEDs, and relays.

2 Bidirectional RS-232 Ports – Control AV equipment such as projectors, LCD and PDP displays, power amplifiers, switchers and scalers.

5 Relay Contact Closure Ports – Conveniently control other room items related to the AV system such as raising and lowering drapes, the screen or the projector.

IR Control – 2 inputs (1 built−in receiver and 1 on a 3.5mm mini jack) and 3 outputs (on terminal blocks).

IR Learning Function – Learns commands from any IR remote for customized control of external sources.

1 RS-485 Serial Port.

Kramer Site-CTRL™ Compatible – For network remote control and management using Kramer Site−CTRL software over the Ethernet port.

K-NET™ Control Channel – For connecting compatible user interfaces and supplying power and control data over a single cable.

USB Port – For uploading configuration file.

Status LEDs – 5 relay, 4 IR, 2 general purpose, Ethernet, K−NET™, RS−485 and RS−232.

Size – Compact MultiTOOLS® – 3 units can be rack mounted side-by-side in a 1U rack space with the optional RK-13 rack adapter.
Zastosowania:
Controlling multimedia rooms, such as classrooms, auditoriums and conference rooms.
Production studios, rental, and staging.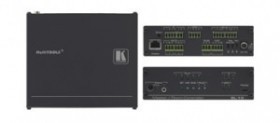 Strona Producenta
http://www.kramerpoland.com/
Dokumentacja Techniczna