Go Anywhere Design
With its clean, contoured appearance, the TSCW-730 makes an elegant statement in any environment. A choice of mounting options allows the TSCW-730 to be installed in places other touch screens can't go. It can be installed on a wall over a standard 2-gang electrical box, placed on a table, or mounted to virtually any flat surface — even glass, granite, or marble.[1]
No Equipment Rack Required!
Ideal for environments with limited space, the TSCW-730 encapsulates the industry's best control technologies in a space-efficient design that can alleviate the need for a separate equipment rack. Onboard Ethernet and Cresnet® ports provide the essential connectivity for integrating a roomful of equipment and connecting to the building network. Expanded connectivity is available using C2N-IO Control Port Expansion Modules, wireless gateways, and other Crestron interface products.[2]
Smart Graphics™
Its generous 7 inch (178 mm) capacitive color touch screen display provides a fully-customizable user interface that's both intuitive and fun to use. Advanced Smart Graphics technology delivers a stunning user experience with fluid gesture-driven controls, kinetic effects, animated feedback, rich metadata, embedded apps and widgets, and streaming video.
Streaming Video
High-performance streaming video capability makes it possible to view security cameras and other video sources right on the touch screen. Support for H.264 and MJPEG formats allows the TSCW-730 to display live streaming video from an IP camera, a streaming server (Crestron CEN-NVS200, DM-TXRX-100-STR, or similar[2]), or a DigitalMedia™ switcher. Video is delivered to the touch screen over Ethernet, eliminating the need for any extra video wiring.
Rava® SIP Intercom
Rava SIP Intercom Technology enables hands-free VoIP communication with other Rava-enabled touch screens and door stations. Rava works over Ethernet, supporting 2-way intercom, video intercom[3], and paging without any special wiring. VoIP phone capability is also possible through integration with an SIP-compatible IP phone system or SIP server, allowing hands-free telephone functionality complete with speed-dialing, caller ID, custom ringers, and other enhancements. Built-in echo cancellation affords full-duplex performance for clear, seamless voice communication using the TSCW-730's integrated microphone and speakers.
Optional Dual-Color Backlit Buttons
The TSCW-730 ships with a set of 10 optional "hard key" pushbuttons, which may be installed and used to access commonly used functions such as turning lights on, adjusting audio volume, or opening the front door for a guest. Dual-color backlighting allows the buttons to illuminate either green or red, providing indication of a waiting message from the front desk, incoming call, security system alert, or any other important notification. The button backlighting can also be used to enable individual button feedback or simply provide a beacon in a darkened room. The backlighting is fully dimmable to allow for just the right brightness. Customized labeling of the buttons can be attained using Crestron Engraver software.[4]
The TSCW-730 ships without the optional hard key pushbuttons installed, affording a clean appearance out of the box with just the touch screen for control. Blank "no-button" covers are installed by default over the button areas to either side of the touch screen display. Installation of the buttons is done simply using just a small flat blade screwdriver.
Audio Feedback
Customized audio files can be loaded to add another dimension to the touch screen graphics using personalized sounds, button feedback, and voice prompts.
Proximity Sensor
The TSCW-730 senses as you approach it, waking its display automatically without having to touch the screen.
3-Series® Control Engine
The TSCW-730 features a built-in 3-Series control processor, which can eliminate the need for a separate rack-mounted control system for many applications. Crestron 3-Series delivers a distinctively robust, dynamic, and secure control system platform capable of faithfully managing a room full of disparate technologies — from audio and video equipment to lighting, climate control, shades, drapes, and other amenities. Its Modular Programming Architecture allows the TSCW-730 to run multiple programs simultaneously for increased efficiency and flexibility. Rock solid networking and IP control afford seamless integration with other systems and devices, with add-on control capability using additional Crestron touch screens, keypads, wireless remotes, and mobile devices, as well as remote management through Crestron Fusion® Enterprise Management Software.
Power over Ethernet
Using PoE+ technology, the TSCW-730 gets its operating power right through the LAN wiring. PoE (Power over Ethernet) eliminates the need for a local power supply or any dedicated power wiring. The TSCW-730 supports LLDP advanced power management, requiring only 16 Watts from the PoE power budget when powered by a compatible PoE+ switch such as the Crestron CEN-SWPOE-16[2] (see specifications for more information).
Cresnet®
Equipped with a Cresnet master port, the TSCW-730 supports the full line of Crestron keypads, lighting controls, shade motors, thermostats, occupancy sensors, and other devices that don't require the higher speed of Ethernet.[5]
Control Port Expander
Interfacing with IR, serial, and relay controlled devices is facilitated using the C2N-IO Control Port Expansion Module[2]. The C2N-IO is a compact device that can be mounted virtually anywhere. It connects to the TSCW-730 via the Cresnet port, and provides one bidirectional RS-232 port, one IR/serial port, and two relay ports for integration with third-party devices. A single C2N-IO can be connected directly to the TSCW-730 without requiring an additional power supply[5]. Besides the C2N-IO, the TSCW-730 is compatible with the complete line of Crestron control modules, 3-Series control card interfaces, sensors, lighting controllers, thermostats, keypads, and wireless gateways to accommodate virtually any control function or system integration need.[2]
BACnet™/IP
Native support for the BACnet/IP communication protocol provides a direct interface to third-party building management systems over Ethernet.[6]
Simple, Versatile Mounting
The TSCW-730 installs easily on virtually any mounting surface. As standard, it mounts directly to a 2-gang electrical box or 2-gang UK electrical box, requiring just 1/2-inch mounting depth while protruding less than an inch from the wall surface. For impenetrable surfaces, such as decorative glass, granite, marble, plaster, smooth stone, and masonry, Crestron offers the Multi-Surface Mount Kit (TSW-730-MSMK[2]), which provides a very versatile mounting solution complete with a low-profile rear shell enclosure, adhesive mounting plate, optional angle bracket, and wire raceway. And finally, the Tabletop Kit (TSW-730-TTK[2]) converts the TSCW-730 into a stylish, compact tabletop touch screen control system, perfect for free-standing use or permanently-mounted on a tabletop or counter surface.
In one compact wall mount device, the Crestron® TSCW-730 delivers a total control solution for a small conference room, hotel room, condominium, or townhouse. Its built-in 3-Series® control processor and brilliant 7" color touch screen combine to deliver a complete, space-saving solution for controlling lights and shades, audio and video, heating and air conditioning, security and surveillance, and many other functions. Built-in H.264 video and Rava® SIP intercom capabilities can even eliminate the need for a separate video intercom panel.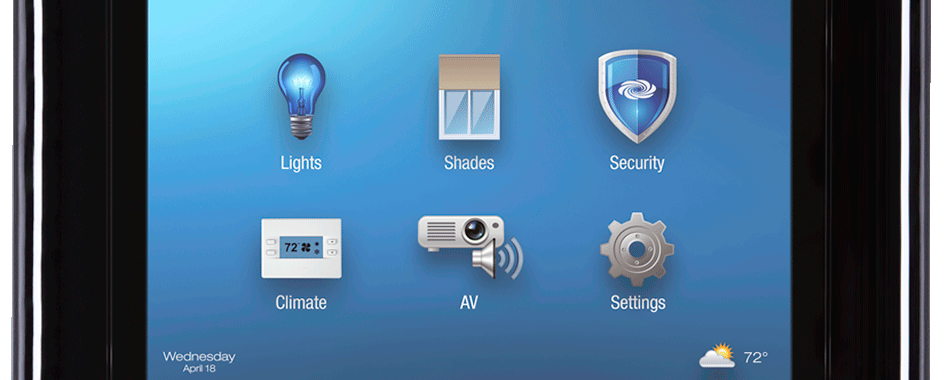 Strona Producenta
www.crestron.com
Dokumentacja Techniczna