The TPMC-9L Wall Mount Touch Screen from Crestron® delivers high-end style and performance in a compact, cost-effective flush mount design. Featuring a generous 9″ widescreen display, advanced touch screen graphics, H.264 video, audio feedback, and Rava™ SIP Intercom, the TPMC-9L delivers a world of control capability yet leaves a very small footprint. The addition of 12 optional pushbuttons provides quick access to commonly used functions.
Advanced Touch Screen Control
A Crestron touch screen offers an ideal user-interface for controlling all the technology in your home, boardroom, classroom, courtroom, or command center. Touch screens do away with piles of remote controls, cluttered wall switches, and cryptic computer screens, simplifying and enhancing the way you use technology. For controlling audio, video, lighting, shades, HVAC, security, and other systems, Crestron touch screens are fully-customizable with easy-to-use controls and icons, true feedback and real-time status display, full-motion video windows, and advanced navigation of digital media servers, tuners, and other devices.Smart Graphics™
Crestron touch screens use Smart Graphics to deliver the ultimate user experience and the ultimate value by enabling the creation of dynamically rich user interfaces with incredible efficiency and unparalleled functionality. Using Smart Graphics, programmers can swiftly integrate fluid gesture-driven controls, animated feedback, metadata, embedded apps, and full-motion video for a deeply engaging and ultra-intuitive touch screen experience. Crestron Smart Graphics include the following enhancements:
Cool-looking graphical buttons, sliders, knobs, and gauges are intuitive and fun to use.
Kinetic effects enhance the feeling of realism with lists and toolbars that scroll with momentum at the flick of a fingertip.
Drag-and-drop objects snap into place offering an easy way to switch sources.
Dashboard widgets personalize the touch screen with clocks, weather, news, and other information.
Customizable themes allow a completely different look and feel for every user, event, or season.
Fully-developed SmartObjects™ enable sophisticated control over complex devices with minimal programming.
Integrated Video
Streaming video capability makes it possible to view security cameras and other video sources right on the touch screen. Native support for H.264 and MJPEG formats allows the TPMC-9L to display live streaming video from an IP camera, a streaming server (Crestron CEN-NVS200[1] or similar), a DigitalMedia™ switcher, or a Capture HD® system. Streaming video is delivered to the touch screen over Ethernet, eliminating the need for any extra video wiring. A wired video input is also provided to allow viewing of a composite video source. Video images can be displayed full frame or in fully-scalable windows anywhere on the touch screen.Rava™ SIP Intercom
Rava SIP Intercom Technology enables hands-free VoIP communication between any two Rava-enabled Crestron touch screens. Rava works over Ethernet, supporting 2-way intercom, video intercom[2], and paging without any special wiring. VoIP phone capability is also possible through integration with an SIP-compatible IP phone system or SIP server, allowing hands-free telephone functionality complete with speed-dialing, caller ID, custom ringers, and other enhancements. Built-in echo cancellation affords true-duplex performance for clear, seamless voice communication using the TPMC-9L's integrated microphone and speakers.Audio Feedback
Customized audio files can be loaded on the TPMC-9L to add another dimension to the touch screen graphics using personalized sounds, button feedback, and voice prompts.Pushbutton Options
The TPMC-9L features a faceplate containing 12 programmable "hard key" pushbuttons, elegantly trimmed by illuminated button dividers. Integral to the faceplate, the pushbuttons are positioned along the left and right edges of the touch screen, making it possible to align them with text and graphics on screen. Custom engraving of the buttons is available with a choice of solid or backlit text. A plain no-button faceplate is also included allowing a very clean appearance with no pushbuttons.Auto-Brightness Control
The TPMC-9L maintains optimal visibility under varying lighting conditions, adjusting its button backlighting and display brightness smoothly and automatically according to changes in the ambient light level in the room.High-Speed Connectivity
Both Cresnet® and high-speed Ethernet are standard on the TPMC-9L, providing for easy network integration and seamless communications with Crestron control systems and other network devices.Versatile Flush-Mount Design
The TPMC-9L is designed for easy flush-mount installation in a wall, lectern or similar flat surface. Mounting clips furnished with the TPMC-9L facilitate a clean installation in drywall and many furniture applications. Additional mounting options are available separately.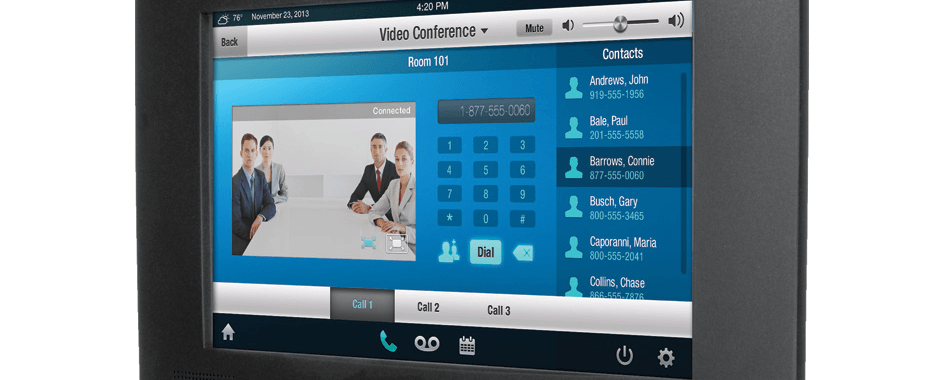 Strona Producenta
http://crestron.eu/
Dokumentacja Techniczna