The DGE-100 features an HDMI® output to the display device, and includes a USB HID port for touch, mouse, and/or keyboard input. Additional control ports are provided to enable control of the display device and other equipment. A single HDMI input allows a high-definition video source to be connected and displayed on screen. High-performance H.264 streaming video is also supported over a high-speed Ethernet connection. Ethernet also provides the interface to a Crestron control system.
Touch Screen Interface
The DGE-100 pairs perfectly with a Crestron TSD-2020 HD Touch Screen Display to deliver a high-definition 20" touch screen control panel that's ideal for home automation, corporate multimedia presentation, and command center applications. Third-party touch screens of all sizes can be used with the DGE-100 to fulfill a range of control, collaboration, and interactive kiosk applications, offering a powerful and versatile solution for all types of meeting rooms, court rooms, auditoriums, and public spaces.
Smart Graphics™
The DGE-100 uses Smart Graphics to deliver the ultimate user experience and the ultimate value by enabling the creation of dynamically rich user interfaces with incredible efficiency and unparalleled functionality. Using Smart Graphics, programmers can swiftly integrate fluid gesture-driven controls, animated feedback, rich metadata, embedded apps and widgets, and full-motion video for a deeply engaging and ultra-intuitive touch screen experience.
Crestron Smart Graphics offers these enhancements and more:
Cool-looking graphical buttons, sliders, knobs, and gauges that are intuitive and fun to use
Kinetic effects to enhance the feeling of realism, with lists and toolbars that scroll with momentum at the flick of a fingertip
Drag-and-drop objects that snap into place, offering an easy way to switch sources
Dashboard widgets to personalize the touch screen with clocks, weather, news, and other information [1]
A power-saving screensaver that can display the time, temperature, and other text content at a reduced brightness level
Customizable themes allowing a completely different look and feel for every user, event, or season
Fully-developed SmartObjects® that enable sophisticated control over complex devices with minimal programming
A consistent look and feel across touch screens of varying sizes
HD Streaming Video
High-definition streaming video capability makes it possible to view security cameras and other video sources over the network right on the touch screen. Native support for H.264 and MJPEG formats allows the DGE-100 to display live streaming video from an IP camera, a streaming encoder (Crestron CEN-NVS200, DM-TXRX-100-STR, or similar [2]), or a DigitalMedia™ switcher.
HDMI® Input
In addition to handling streaming video, the DGE-100 includes an HDMI input, which allows a computer or other HD video source to be connected and displayed. Wireless presentation capability can also be enabled by connecting an AirMedia™ gateway (AM-100 [2]) to the HDMI input, allowing Wi-Fi® enabled laptops and mobile devices to connect wirelessly to the DGE-100.
HDCP Support
Industry-leading support for HDCP (High-bandwidth Digital Content Protection) ensures seamless compatibility with content-protected DVD, Blu-ray Disc®, HDTV, and multimedia computer sources connected via HDMI.
Web Browsing
Using the DGE-100's built-in Web browser, it's possible to access online program guides and other Web-based services at the touch of a button, allowing enhanced touch screen control of DVRs and other appliances without having to pick up a separate tablet or smartphone. If a device can be controlled or managed through a Web browser, it can be integrated into the Crestron system through the DGE-100. Of course, the Web browser may also be used to simply browse the Internet, watch online videos, and check up on social media.[1]
Multi-Touch Support
Paired with the TSD-2020 or any other multi-touch compatible touch screen display, the DGE-100 affords enhanced capabilities for browsing Web pages using multi-touch gestures.
On-Screen Keyboard
An on-screen multi-language keyboard allows for quick entry of passwords, URLs, and text searches.
Built-in Annotation
Whether conducting a high-level boardroom meeting or training seminar, sharing ideas in a huddle space, or watching sports in your home theater, annotation helps put the fine point on any presentation. Native to the DGE-100, annotation provides the ability to illustrate your thoughts on-the-fly, letting you draw and write over video and computer images, and sketch out ideas on a whiteboard screen.
Remote annotation capability allows multiple participants, each with a separate touch screen, to draw with their fingertips over the same video image or whiteboard, enabling enhanced collaboration in a classroom, courtroom, or council chamber. Remote annotation works using multiple DGE-100's and other Crestron touch screens. Adding a dedicated DGE-100 to the main display in any room allows the annotation session to be viewed by the entire audience.
Device Controller
The DGE-100 includes built-in RS-232 and IR control ports to allow for programmable control of the connected display and other devices. Additional control capability is afforded by harnessing the CEC (Consumer Electronics Control) signal embedded in HDMI. Via its Ethernet connection to the control system, the DGE-100 provides a gateway for controlling the display device right through its HDMI connection, potentially eliminating the need for any dedicated serial cables or IR emitters.
Low-Profile Installation
The DGE-100 mounts conveniently to a wall, ceiling, or other flat surface. Its compact, surface-mountable form factor fits easily behind a flat panel display, beneath a tabletop, or inside a lectern or other furniture. It can even be attached directly to a single rack rail in the back of an equipment cabinet. It can be powered using the wall mount power pack (included), or via PoE (Power over Ethernet) for a true one-wire solution. All connections and LED indicators are positioned on the top and bottom, ensuring optimal access and visibility for a clean, serviceable installation.
When paired with a wall-mounted TSD-2020 HD Touch Screen Display, the DGE-100 can be installed within the optional TSD-2020-WMK-BB back box, allowing for a completely hidden appearance.
The DGE-100 Digital Graphics Engine transforms virtually any HD touch screen display into an advanced Crestron® controller. Featuring Crestron Smart Graphics™ technology, the DGE-100 provides for the creation of a completely custom graphical environment combining advanced controls for audio & video, lighting, shades, HVAC, security, and other functions with dual-window HD video display, annotation, audio feedback, and Web browsing. Its low-profile, surface-mountable design allows for a discreet installation behind a flat-panel display, under a table, or inside a lectern or equipment rack.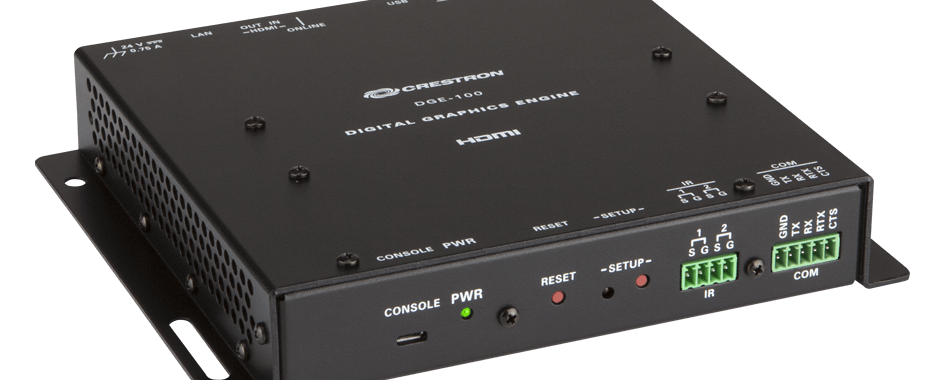 Strona Producenta
http://crestron.eu/
Dokumentacja Techniczna