The DIN-2MC2 is a 2-channel motor control module designed to provide control of bidirectional motors for drapes, shades, projection screens, lifts, skylights, and gates. Each channel supports up/down or open/close control of a conventional three-wire bidirectional type motor up to 1/2 HP at voltages up to 240 Volts. Built-in timing and interlock logic make it easy to program the DIN-2MC2 for failsafe operation.
Override Input
An override input is provided to allow an external contact closure to momentarily override the control system program and set each channel output to its override preset state. States can be set and saved locally from the front panel, or remotely via software.
DIN Rail Installation
The DIN-2MC2 is designed to snap onto a standard DIN rail for installation in a wall mount enclosure. Wiring connections are made using screw terminals positioned along the top and bottom, clearly accessible from the front for easy installation and servicing. All setup controls and indicators are positioned on the center front panel. When installed in an enclosure utilizing 45 mm cutouts, the DIN-2MC2's front panel stays accessible while the connections are concealed.
Cresnet®
The DIN-2MC2 communicates with a DIN-AP2 2-Series Automation Processor, or other Crestron 2-Series control system, via the Cresnet control network. A pair of Cresnet ports is provided on the DIN-2MC2 allowing for easy daisy-chaining of several DIN Rail Series automation control modules.
FEATURES
Summary Of Features
Dual-channel bidirectional motor control
Supports 120 to 240 Volt 50/60 Hz
Override input
Cresnet® communications
Setup via front panel or software
Programmable functionality via DIN-AP2
6M wide DIN rail mounting
Load Ratings
Motor Control Channels
2
Per Channel
0.5 HP @ 240 Volts AC, 50/60 Hz
Module Total
1 HP @ 240 Volts AC, 50/60 Hz
Load Types
3-Wire bidirectional motors
Connections
1 – 2
(2) sets of (3) captive screw terminals;
3-wire bidirectional motor control relays;
Maximum Wire Size: 12 AWG (2.5 mm²)
NET
(2) 4-pin 3.5mm detachable terminal blocks, paralleled;
Cresnet slave port
OVERRIDE
(2) 2-pin 3.5mm detachable terminal blocks, paralleled;
Sensing input for external low-voltage contact closure;
Activates override mode when a closure is present;
Minimum Closure Rating: 10mA (per module) at 24 Volts
Controls & Indicators
OPEN & CLOSE 1 – 2
(4) Red LEDs and (4) miniature pushbuttons for status indication and local control of each channel
NET ID
(2) 7-Segment green LED digits and (2) miniature pushbuttons for setting Cresnet ID
SETUP
(1) Red LED and (1) recessed miniature pushbutton for enabling setup mode and touch-settable ID
OVR
(1) Red LED and (1) miniature pushbutton for enabling override mode and saving override presets
PWR
(1) Green LED, illuminates when DC power is applied to the NET port
NET
(1) Yellow LED, indicates communication with the control processor
RESET
(1) Recessed miniature pushbutton, resets internal processor
Enclosure
Light gray polycarbonate housing with polycarbonate label overlay, UL94 V-0 rated, 35mm DIN EN 60715 rail mount, DIN 43880 form factor for enclosures with 45mm front panel cutout, occupies 6 DIN module spaces (108mm)
Power Requirements
Cresnet Power Usage
3 Watts (1.13 Amps @ 24 Volts DC)
Environmental
Temperature
32° to 104°F (0° to 40°C)
Humidity
10% to 90% RH (non-condensing)
Heat Dissipation
10 BTU/hr
Dimensions
Height
3.71 in (94.2 mm)
Width
4.18 in (106.0 mm)
Depth
2.35 in (59.5 mm)
Weight
7.4 oz (210 g)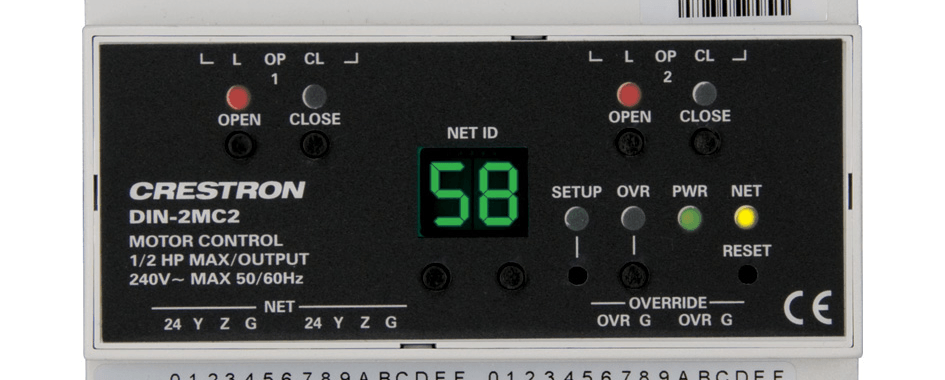 Strona Producenta
https://www.crestron.com
Dokumentacja Techniczna