The Extron DMP 64 Digital Matrix Processor is a 6×4 audio mixer featuring Extron ProDSP™, a powerful digital signal processing platform for audio signal routing and control. The DMP 64 offers a configuration approach to DSP that simplifies mixing, routing, and room optimization. Quick and intuitive configuration using the DSP Configurator™ Software allows the DMP 64 to be installed in very little time, with easy-to-learn adjustments that can be heard in real-time. The DMP 64 is ideal for presentation applications that require advanced line and microphone audio matrix mixing with DSP in a small form factor.
ProDSP
Extron's exclusive ProDSP is engineered from the ground up using a powerful 64-bit floating point DSP engine to provide very wide dynamic range and reduce the potential for clipping. ProDSP also utilizes studio grade 24-bit audio converters with 48 kHz sampling to maintain audio signal transparency. ProDSP is loaded with powerful, easy-to-configure tools to control level, dynamics, filters, delay, ducking, loudness, and feedback suppression.
Easy-to-Use DSP Configurator Software
The power of ProDSP is easily harnessed with the DSP Configurator Software. The flexible on-screen layout offers fast access to all of the digital audio signal processing tools including level control, dynamics, filters, delay, ducking, loudness, feedback suppression, and matrix mixing. Designers can quickly get a snapshot view of the entire audio system, including processing blocks and routing assignments, all at once.
Flexible Routing
The DMP 64 features six mono mic/line inputs with phantom power. These inputs can be matrixed mixed into any of the four output buses to create finely tuned audio zones for the corresponding outputs. In addition, the six inputs can also be routed to any of the four "virtual" buses to allow inputs to be processed together as a group, before routing back into the output buses. The flexible routing capabilities within the DMP 64 allow system designers to create various signal management schemes to accommodate a variety of sound system application requirements.
Versatile Control Options
The DMP 64 can conveniently be controlled and configured via RS-232 serial control, Ethernet control, or USB. It also includes digital I/O ports, which allow for external triggering such as mic activation and muting.
Features
6×4 mic/line audio matrix mixer

 — The DMP 64 offers uniquely sized signal routing and level control for smaller projects. It features six inputs, all with mic level capability and 48 volt phantom power, that can be routed and mixed to four line level outputs.

Inputs: Six balanced or unbalanced mic/line level on 3.5 mm, 3-pole captive screw connectors

Outputs: Four balanced or unbalanced line level on 3.5 mm, 3-pole captive screw connectors

ProDSP™ 32/64-bit floating point signal processing

 — The DMP 64 features 32/64-bit floating point audio DSP processing, which maintains very wide dynamic range and audio signal transparency, to simplify management of gain staging while reducing the possibility of DSP signal clipping.

48 volt phantom power

 — The DMP 64 is equipped with selectable 48 volt phantom power for each input, allowing the use of condenser microphones.

Studio grade 24-bit/48 kHz analog-to-digital and digital-to-analog converters

 — Professional converters fully preserve the integrity of the original audio signal.

Fixed, low latency DSP processing

 — Input to output latency is a constant 4.5 ms within the DMP 64, regardless of the number of active channels or processes. Fixed, low latency processing keeps audio in sync with video, and prevents distractions to the presenter resulting from delayed live audio.

DSP Configurator™ Software

 — A powerful yet user-friendly PC-based software tool for managing all audio operations of the DMP 64. It enables complete setup and configuration of digital audio processing tools on the ProDSP platform, as well as routing and mixing.

Intuitive Graphical User Environment

 — The DSP Configurator Software features a Graphical User Environment that offers a clear view of all input and outputs, audio processing blocks, routing, mix points, and virtual routing in a single window. This allows a designer or installer to quickly view an audio configuration without having to access multiple windows or menus.

Flexible control options

 — The DMP 64 can be controlled using the DSP Configurator Software and a PC connection to the Ethernet port, the RS-232 serial port, or the USB 2.0 port on the front panel. The DMP 64 can also be controlled through a control system with Extron SIS™ – Simple Instruction Set commands, and by accessing the internal Web pages. With two RS-232 serial ports plus the Ethernet port, the DMP 64 offers possibilities for control in single and divisible room applications.

Copy and paste for processing blocks

 — To help speed audio system design and setup, parameter settings can be quickly copied between individual processing blocks or identical groups of blocks within the Graphical User Environment, using conventional cut-and-paste commands.

Building Blocks processor settings

 — A collection of pre-designed processor settings optimized for a specific type of input or output device, such as microphones and Extron speakers, with preset levels, filters, dynamics, and more. Flexible Building Blocks are available on each I/O strip and allow system designers to fully customize and save their own Building Blocks, further streamlining audio system design and integration.

Console View with gain settings, metering, and routing in a single window

 — An optional view within the DSP Configurator Software that allows system designers to see all gain settings and routing, together with live metering in a single window. Console View provides overload indication, numeric values for levels, and also mute status for each input, gain stage, mix point, and output, so that settings between inputs and outputs can be easily compared and adjusted in one view.

Live and Emulate operation modes with configuration file saving

 — Live mode allows integrators to connect to the DMP 64 and make live parameter adjustments while hearing or metering them in real-time. This avoids the need to compile and upload a configuration file to the DSP. Emulation mode allows settings to be configured offline, then uploaded to the DMP 64. The software also downloads configuration files from the mixer for archiving.

32 DSP Configurator presets

 — Using the DSP Configurator Software, any parameters for DSP processing, levels, or audio routing can be saved as presets. These settings can be saved for the entire system, or any selected group of inputs, outputs, mix points, and DSP blocks.

Six digital I/O ports for remote control or feedback

 — Six configurable digital I/O ports are provided, so that the DMP 64 can be programmed to sense and then respond to external triggers such as mic activation, muting, and recall of presets.

Dual matrix design provides output and virtual routing options

 — The DMP 64 employs a dual matrix design that offers substantial flexibility in routing, mixing, and processing audio input sources. An output matrix allows any of the six inputs to be matrix mixed to any or all four outputs. If desired, any of the inputs can first be directed into a virtual matrix, which routes the inputs to four virtual buses, before being mixed back into the output matrix. Virtual buses allow inputs to be processed together as a group.

Group masters

 — The DMP 64 provides the capability to consolidate gain or mute control throughout the system. Gain or mute controls can be selected and added to a group master, which can then be controlled by a single master fader or mute control. Each group master can have up to 16 members, and up to 32 group masters can be created.

Soft limits provide optimal group master adjustment range

 — The group master volume range can be limited using soft limits to maintain optimal minimum and maximum levels when using external volume control. This prevents operators from over or under-adjusting levels when using digital I/O or RS-232 control. The DSP Configurator Software provides quick drag-and-drop adjustment of soft limits from the Group Controls screen.

SpeedNav™ keyboard navigation

 — SpeedNav enables user-friendly, keyboard-based navigation of the DSP Configurator Software without the need for a mouse or touchpad. Using keyboard navigation keys and shortcuts, the user can access any input or output, mix point, and all audio DSP tools. Using only the keyboard for software access can help expedite audio system setup and optimization while on-site using laptop PCs.

Front panel input and output signal presence and clipping LEDs

 — The DMP 64 provides LEDs on the front panel for each input and output, for real-time monitoring of signal presence. A separate LED illuminates as a warning whenever analog signal clipping is detected.

Front panel USB configuration port

 — Enables easy configuration without having to access the processor's rear panel.

Two RS-232 ports

 — The DMP 64 is equipped with both primary and secondary RS-232 serial ports for divisible room applications.

Ethernet monitoring and control

 — Engineered to meet the needs of professional AV environments, Ethernet control enables the DMP 64 to be proactively monitored and managed over a LAN, WAN, or the Internet, using standard TCP/IP protocols.

Rack-mountable 1U, half rack width metal enclosure

External Extron Everlast™ power supply included, replacement part #70-1174-01 — Provides worldwide power compatibility with high‑demonstrated reliability and low power consumption. This power supply is compatible with the ZipClip 100 and ZipClip 200 Mounting Kits.

Extron Everlast Power Supply is covered by a 7‑year parts and labor warranty
Matryca Audio Extron DMP 64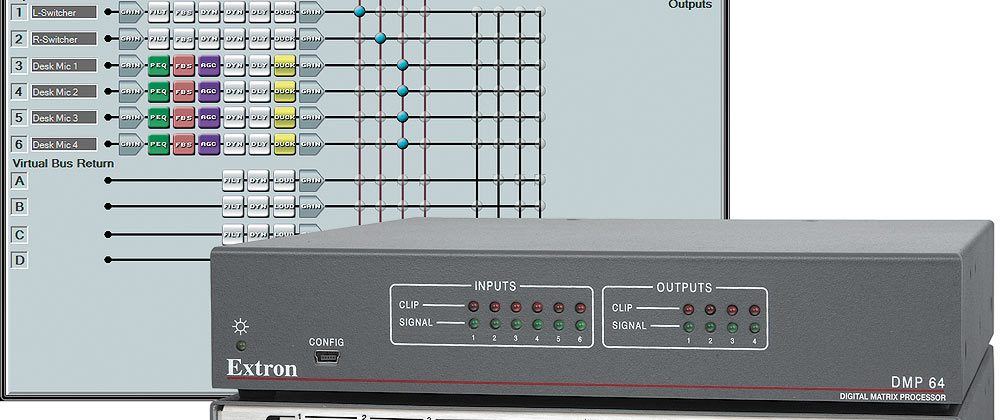 Strona Producenta
www.extron.com
Dokumentacja Techniczna