DTP HDMI 4K 230 Tx
 is a transmitter for sending HDMI, audio, and bidirectional RS‑232 and IR signals up to 230 feet (70 meters) over a shielded CATx cable to Extron DTP
®
‑enabled products. It provides an economical and effective means for extending HDMI with embedded multi-channel audio from HDMI-equipped devices. In addition, the DTP HDMI 4K 230 Tx accepts analog stereo audio signals for simultaneous transmission over the same shielded twisted pair cable. It supports video signals at resolutions up to 4K. The compact enclosure size and remote power capability make the DTP HDMI 4K 230 Tx ideal for discreet placement in lecterns, beneath tables, or wherever needed to meet application requirements.
The HDCP-compliant DTP HDMI 4K 230 Tx enables the reliable transmission of HDMI signals, supporting Deep Color up to 12‑bit, CEC pass-through, and embedded HD lossless audio formats. In addition, DDC communication of EDID and HDCP is continuously maintained between a source and display, ensuring direct compatibility and optimal signal transmission between devices. The DTP HDMI 4K 230 Tx also provides a connection for sending stereo analog audio to a DTP‑enabled matrix switcher, switcher, or signal processor. The analog stereo audio signal is sent over the same shielded twisted pair cable as the HDMI and control signals, eliminating the need for a separate cable run to support analog audio at the DTP‑enabled product.
The twisted pair transmitter provides other convenient, integrator-friendly features designed to help simplify installation. The DTP HDMI 4K 230 Tx supports simultaneous transmission of bidirectional RS‑232 and IR signals from a control system for AV device control. Also, the transmitter can be remotely powered over the shielded twisted pair cable by a DTP‑enabled product, allowing both devices to share one power supply.
The DTP HDMI 4K 230 Tx can be integrated with an Extron DTP CrossPoint Presentation Matrix Switcher, or other DTP‑enabled products to support sources at remote locations. The transmitter is housed in a 1″ (2.5 cm) high, quarter rack width metal enclosure. The low profile design of the DTP HDMI 4K 230 Tx allows for discreet placement in lecterns and beneath tables.
Extron recommends Extron-certified XTP DTP 24 shielded twisted pair cable, shielded RJ-45 plugs, jacks, and couplers engineered for optimum signal transmission with Extron DTP Series products. The XTP DTP 24 cable is certified to 475 MHz, and utilizes a SF/UTP design with four unshielded 24 AWG twisted pair conductors inside an overall braid and foil shield for superior performance and noise immunity.
Features
Transmits HDMI plus control and analog audio up to 230 feet (70 meters) over a shielded CATx cable

 — The DTP HDMI 4K 230 Tx provides high reliability and maximum performance on an economical and easily installed cable infrastructure.

Inputs: One HDMI, one 3.5 mm stereo mini jack for audio

Output: One DTP® 230 twisted pair output on RJ-45

Supports computer and video resolutions up to 4K

Supported HDMI specification features include data rates up to 10.2 Gbps, Deep Color up to 12-bit, 3D, HD lossless audio formats, and CEC pass-through

HDCP 2.2 compliant

 — Ensures display of content-protected 4K video media and maintains interoperability with earlier versions of HDCP.

Remote power capability

 — For simplified installation, the transmitter can be remotely powered by a DTP-enabled product over the twisted pair connection.

Extron XTP DTP 24 shielded twisted pair cable is strongly recommended for optimal performance

Compatible with CATx shielded twisted pair cable

 — Shielded twisted pair cabling with solid center conductor sizes of 24 AWG or better is recommended for optimal performance.

Accepts additional analog stereo audio signals

 — The DTP HDMI 4K 230 Tx accepts stereo analog audio signals for simultaneous transmission over the same shielded twisted pair cable. Analog audio is not embedded onto the digital video signal.

Bidirectional RS-232 and IR pass-through for AV device control

 — Bidirectional RS-232 control and IR signals can be transmitted alongside the video signal, allowing remote AV devices to be controlled without the need for additional cabling.

Supports multiple embedded audio formats

 — The DTP HDMI 4K 230 Tx is compatible with a broad range of multi-channel audio signals, providing reliable operation with HDMI sources.

Supports EDID and HDCP transmission

 — DDC channels are actively buffered, allowing continuous communication between source and display.

Compatible with all DTP 230 Series receivers and DTP-enabled products

 — Enables mixing and matching with desktop and wallplate receivers, as well as other DTP-enabled products to meet application requirements.

LED indicator for signal presence and power

 — Provides visual indication of system status for real-time feedback and monitoring of key performance parameters.

RJ-45 signal and link LED indicators for DTP port

 — Provides a means for validating signal flow and operation, allowing quick identification of connectivity issues.

UL 2043 plenum rated

 — The DTP HDMI 4K 230 Tx meets UL 2043 for smoke and heat release installation within a plenum airspace above a drop ceiling – power supply excluded. Above-the-ceiling placement conceals the transmitter to prevent theft, and is convenient for installing equipment when space inside the room is limited.

JITC Certified

 — Successfully completed interoperability and information assurance testing for use in government applications and other mission-critical environments.

1″ (2.5 cm) high, quarter rack width metal enclosure

 — With a low profile enclosure, the device can be installed discreetly wherever needed.
Includes LockIt® HDMI cable lacing brackets
External Extron Everlast™ power supply included, replacement part #70-1174-01 — Provides worldwide power compatibility with high‑demonstrated reliability and low power consumption

Extron Everlast Power Supply is covered by a 7‑year parts and labor warranty
The Extron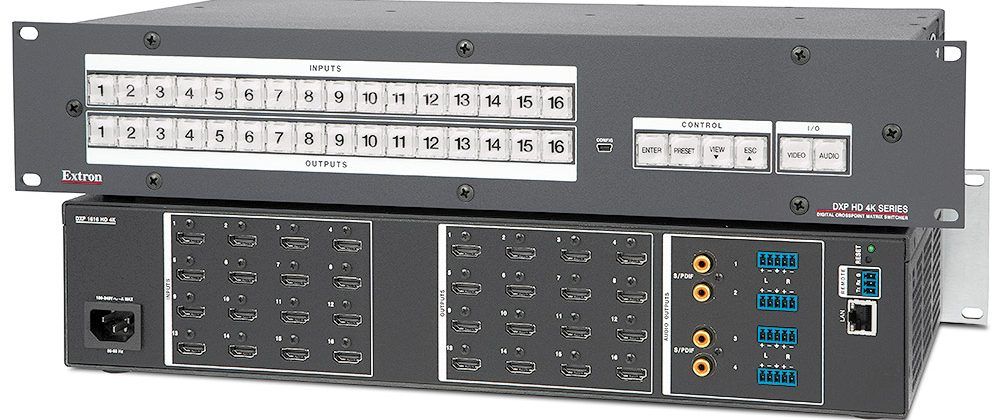 Strona Producenta
www.extron.com
Dokumentacja Techniczna