Its compact, low-profile design allows the DM-RMC-4K-SCALER-C to be installed discreetly behind a flat panel display or above a ceiling mounted projector. It connects to the head end or source location using a single CAT type twisted pair cable.[1]
4K Ultra HD
Crestron DigitalMedia continues to advance the standard for digital AV signal distribution, delivering the world's first end-to-end 4K system solution. The DM-RMC-4K-SCALER-C features the latest DM 8G+ technology, providing support for the transport of 4K and Ultra HD video signals. Support for 4K video also ensures support for the latest generation of computers and monitors with native resolutions beyond 1080p and WUXGA.
HDBaseT® Certified
Crestron DigitalMedia 8G+ technology is designed using HDBaseT Alliance specifications, ensuring interoperability with other HDBaseT certified products. Via its DM 8G+ input, the DM-RMC-4K-SCALER-C can be connected directly to an HDBaseT compliant source without requiring a DM transmitter.
Multimedia Display Interface
A single HDMI digital AV output port is provided on the DM-RMC-4K-SCALER-C for connection to a display or other device. The HDMI output can also handle DVI signals using an appropriate adapter or interface cable.[2]
A single CAT type cable connects the DM-RMC-4K-SCALER-C to a DM switcher or transmitter, or to an HDBaseT source, transporting video, audio, control, networking, and power signals all through one simple RJ45 connection.[1,3,4] Multiple DM-RMC-4K-SCALER-Cs may be installed to handle each display in a multiroom distribution system, all fed from a central DM-MD series switcher. Or, a single DM-RMC-4K-SCALER-C can be fed straight from a DM 8G+ or HDBaseT transmitter, affording a simple solution for extending a computer or AV signal to a single display.
4K/60 Scaler
Crestron exclusive 4K/60 scaling technology ensures an optimal image on any screen no matter what video or computer source is selected. And, by placing an independent, high-performance 4K scaler at every display, DigitalMedia delivers the most flexible and user-friendly solution for routing multiple disparate sources to many different display devices. This "distributed scaler" approach allows sources of any resolution or frame rate to be routed to any screen in the building and displayed reliably without compromising the original input signal. So, displays with the same native resolution as the source can receive a pure, unprocessed signal while every other display receives a signal that's perfectly scaled to look amazing on its particular screen.
With distributed 4K scaling, DM lets you enjoy a full, unadulterated 4K Ultra HD image in your high-end theater while simultaneously distributing the same image to smaller, lesser displays in other rooms. It also enables HD 1080p and lower resolution images from cameras and legacy sources to look their best on every screen in the house.
The DM-RMC-4K-SCALER-C accepts any input resolution from standard definition NTSC 480i to ultra high-definition DCI 4K, and scales it beautifully to any output resolution up to DCI 4K (4096 x 2160 @ 60 Hz). Interlaced sources are converted to progressive scan using motion-adaptive deinterlacing. Intelligent frame rate conversion enables support for 24p and PAL format sources. Fully automatic operation eliminates any complicated setup by utilizing the display's EDID to configure the scaler.[5]
Video Wall Processing
The DM-RMC-4K-SCALER-C has another trick up its sleeve, providing zoom capability and bezel compensation on its output to display just a portion of the source image. Using this feature, multiple units may be combined to configure a video wall composed of up to 64 individual displays. Configurations of up to eight wide by up to eight high are supported, and all that is required is a separate DM-RMC-4K-SCALER-C for each display, and a DM switcher with sufficient DM 8G+ outputs.
Audio De-embedding
The DM-RMC-4K-SCALER-C is equipped with a balanced analog audio output, allowing stereo audio signals to be extracted from the digital stream and fed to a local amplifier, sound bar, or a pair of powered speakers. The output volume is adjustable via a control system using a keypad, touch screen, handheld remote, or mobile device.[6]
See also model DM-RMC-4K-SCALER-C-DSP for applications requiring stereo downmixing of multichannel audio.
LAN Connectivity
Along with high-definition AV and control, DigitalMedia also integrates high-speed Ethernet networking for a total signal distribution solution. The DM-RMC-4K-SCALER-C includes a 10/100 Ethernet port, which can be used to provide a convenient LAN connection for a local network device.
Embedded Device Control
The DM-RMC-4K-SCALER-C includes built-in RS-232, IR, and Ethernet control ports to enable programmable control of the display device connected to it (via a control system). It also offers an alternative to such conventional control methods by harnessing the CEC (Consumer Electronics Control) signal embedded in HDMI. Through its connection to the control system, the DM-RMC-4K-SCALER-C provides a gateway for controlling the display device right through the HDMI connection, potentially eliminating the need for any dedicated control wires or IR emitters. The DM-RMC-4K-SCALER-C also supports CEC over HDBaseT, enabling control of an HDBaseT source connected to the DM 8G+ input.
Two low-voltage relay ports are also included on the DM-RMC-4K-SCALER-C for control of a projection screen or lift.
USB Signal Extension (optional)
DigitalMedia allows for the routing of USB signals alongside video and audio. USB signal extension is enabled on the DM-RMC-4K-SCALER-C by adding a USB-EXT-DM USB over Ethernet Extender Module [7].
Low-Profile Installation
The DM-RMC-4K-SCALER-C mounts conveniently to a wall, ceiling, or other flat surface. At just over an inch deep, it fits easily behind a flat panel display or above a ceiling-mounted projector. The unit can be powered using the wall mount power pack (included), or PoDM+ (Power over DigitalMedia Plus) for a true one-wire solution [3,4]. All connections and LED indicators are positioned on the sides, ensuring optimal access and visibility for a clean, serviceable installation. An array of indicators is provided for easy setup and troubleshooting.
The DM-RMC-4K-SCALER-C provides an advanced one-box interface solution for a single display device as part of a complete Crestron® DigitalMedia™ system. It functions as a DM 8G+® receiver, 4K/60 video scaler, and control interface, providing a single HDMI® output along with an analog audio output, plus Ethernet, RS-232, IR, and relay control ports. In addition to DM 8G+, it is also compatible with HDBaseT®, allowing it to be connected directly to an HDBaseT certified source. Built-in scaling enables the connected display to handle virtually any video signal — including 4K and Ultra HD!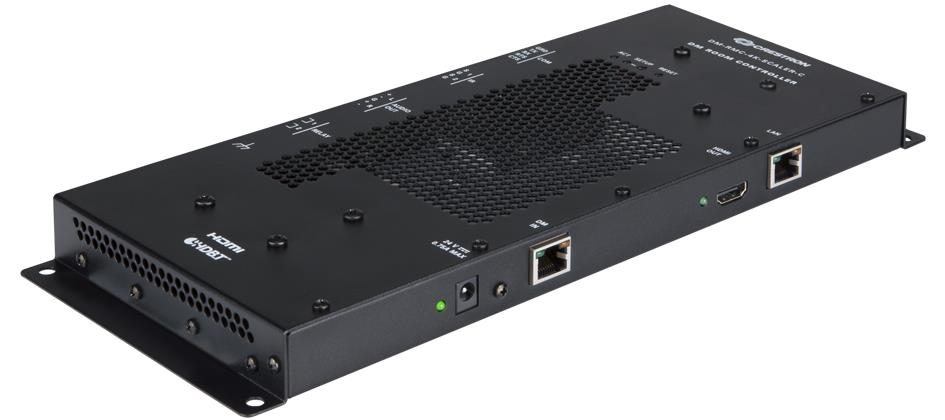 Strona Producenta
www.crestron.eu
Dokumentacja Techniczna